Many people ask "Is Radon a problem in Arizona"? or "Is there Radon in Arizona"?
The truth is Radon can be found anywhere because it comes from deep inside the earth.
With homes being built "tighter" these days Radon levels can be higher than ever!
We can test your house for the presence of radon gas during the home inspection!
[The test cannisters must remain in place with windows and doors closed (with the exception of normal traffic) for 48 hours. After collection of test cannisters results are available in about two days.]
CALL FOR DETAILS, PRICING.
Radon Overview and Radon Testing Information
Radon is a cancer-causing, radioactive gas.
You can't see radon. And you can't smell it or taste it. But it may be a problem in your home. Conducting a radon test in Arizona is the only way to know if you have a radon problem.
Radon is estimated to cause many thousands of deaths each year. That's because when you breathe air containing radon, you can get lung cancer. In fact, the Surgeon General has warned that radon is the second leading cause of lung cancer in the United States today. Only smoking causes more lung cancer deaths. If you smoke and your home has high radon levels, your risk of lung cancer is especially high. The EPA & Surgeon General recommends radon testing for all homes below the third floor.
Radon can be found all over the U.S. including Phoenix, Scottsdale, Mesa, Tempe, Gilbert, Chandler, Cave Creek, Fountain Hills, Glendale and all cities in Arizona.  Indeed anywhere you live in Arizona could have high levels of Radon gas.
Radon comes from the natural (radioactive) breakdown of uranium in soil, rock and water and gets into the air you breathe. Radon can be found all over the U.S. It can get into any type of building – homes, offices, and schools – and build up to high levels. But you and your family are most likely to get your greatest exposure at home. That's where you spend most of your time.
You should perform a radon test.
Conducting a radon test is the only way to know if you and your family are at risk from radon. EPA and the Surgeon General recommend conducting a radon test on all homes below the third floor for radon. EPA also recommends testing in schools.
You can fix a radon problem.
There are simple ways to fix a radon problem that aren't too costly. Even very high levels can be reduced to acceptable levels.
How Does Radon Enter Your Home
Radon is a radioactive gas. It comes from the natural decay of uranium that is found in nearly all soils. It typically moves up through the ground to the air above and into your home through cracks and other holes in the foundation. Your home traps radon inside, where it can build up. Any home may have a radon problem. This means new and old homes, well-sealed and drafty homes, and homes with or without basements.
Radon from soil is the main cause of radon problems. Sometimes radon enters the home through well water. In a small number of homes, the building materials can give off radon, too. However, building materials rarely cause radon problems by themselves.
Any Home may have a radon problem.
Radon gets in through:
1. Cracks in solid floors
2. Construction joints
3. Cracks in walls
4. Gaps in suspended floors
5. Gaps around service pipes
6. Cavities inside walls
7. The water supply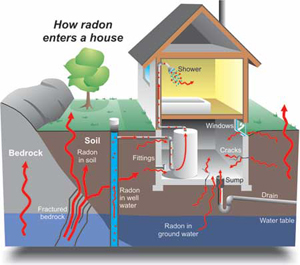 Nearly 1 out of every 15 homes in the U.S. is estimated to have elevated radon levels. Elevated levels of radon gas have been found in homes in Arizona. Contact your state radon office for general information about radon in your area. While radon problems may be more common in some areas, any home may have a problem. The only way to know about your home is to test.  We at 1st Priority Inspections highly recommend testing for Radon and our Home Inspectors can perform the Radon testing at the same time as your Arizona Home Inspection.
Ask about our radon testing prices!
source: various excerpts From U.S. Environmental Protection Agency (EPA))
Call today to schedule your Home Inspection and Radon Testing in Phoenix Arizona and the Valley of the Sun
(480)219-7663
The Leading Arizona Home Inspector for Arizona Home Inspections and Mold Inspections and Radon testing
1st priority inspections is your source for home inspection in Arizona, Phoenix, Mesa, Tempe, Scottsdale, Chandler, Gilbert, Glendale home buyers, home sellers, warranty, realtors, indoor air quality testing iaq, termite Home Inspections, termite inspections, 1-2 year new home warranty inspections, radon testing asbestos and lead based paint testing, mold inspections, allergen testing and indoor Environmental testing for the Phoenix Metro and surrounding areas. We use state of the art equipment, professional and easy to understand home inspection report.